Home
» Benefits Of New Technique
Benefits Of New Technique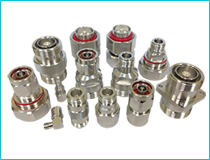 Ever the innovator, engineering team identified a need for a plating process that would enhance the performance of RF connectors. What they developed was the (Trimetal / Trialloy) finish; this cutting edge process represents a dramatic improvement in plating RF connectors.

The process provides high corrosion and tarnish resistance, with a shelf life that far exceeds traditional silver plating, with superior electrical performance than nickel. This new plating method overcomes the negative characteristics of silver and nickel plating, while enhancing their positive properties. Silver exhibits excellent electrical properties but tends to tarnish and breaks down over time, while nickel provides a longer shelf life and wear characteristics, but exhibits poor intermodulation performance, high permeability, and poor screening effects.

Coated connectors overcome these drawbacks while providing excellent corrosion resistance (even in harsh environments), and low surface friction that is approximately 70% of silver. It also imparts high conductivity, superior abrasion resistance, excellent solderability, low internal stress which allows for forming of plating components, and much more.